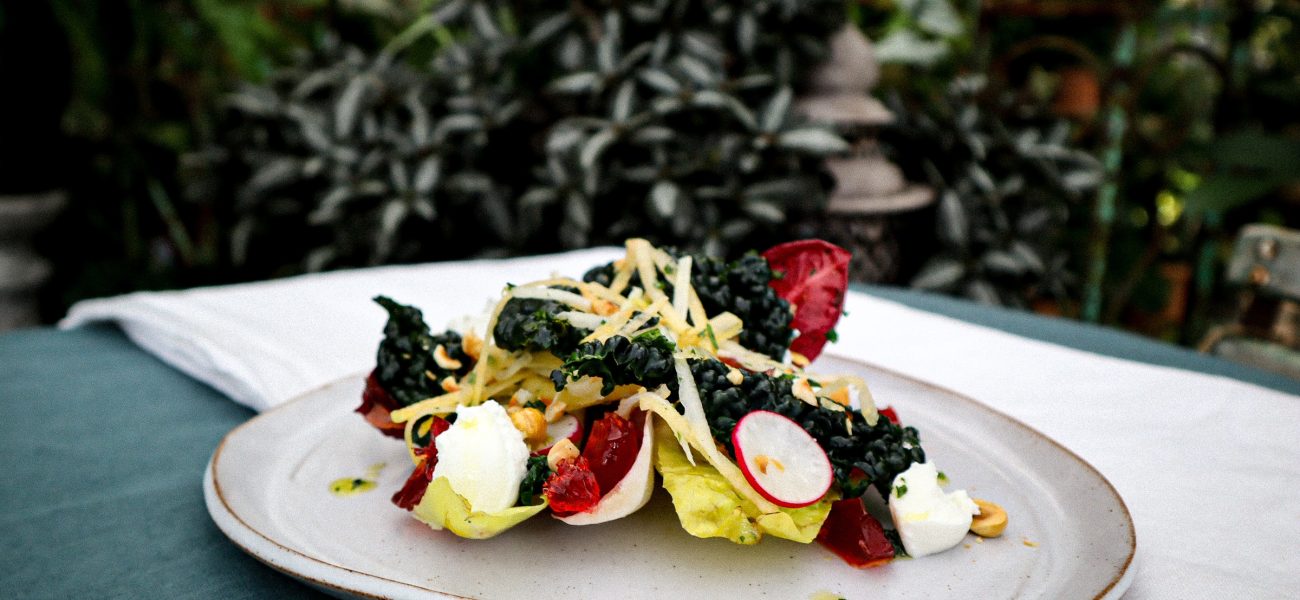 Winter Salad
First featured in the winter issue of Nansledan Life
A winter salad is a delightful antidote to the Christmas calorie crush. The ingredients below should be thought of as a guide rather than a rule. It really is about heaping together the best of the season with an eye to colour and texture contrasts, bound by earthy and wintery primary ingredients. Raw, healthy crunchiness to beat the January blues…
Ingredients for 4
1x White chicory
1x Red chicory (optional as often very expensive)
A couple of choice fronds of rainbow chard
1x Small kohlrabi, grated
A quarter of peeled and grated swede
A few tbsp of toasted and crushed hazelnuts
A few tbsp of quality 'live' apple cider vinegar
A few tbsp of local virgin rapeseed or extra virgin olive oil
A few thinly sliced radish
Chopped flat leaf parsley
120gm of Crab apple jelly, rustically chopped in largish chunks
160gm of quality local goat's cheese such as Nanny Florrie or Polmarkyn, here I've used some Somerset goat's cheese curd from White Lake Cheese.
Sea salt flakes and freshly ground black pepper
Method:
Divide the chicory into leaves and ice to crisp, pat dry
Wash the chard well and strip off the leaves. Julienne the stalks into fine matchsticks.
Combine the grated kohlrabi, swede, rainbow chard, chicory, radish, hazelnuts, and parsley in a large bowl and toss well with the lemon juice, oil, and a little seasoning
To serve:
Place a large handful of the salad on each plate and fairly divide the goat's cheese and crab apple jelly. Serve as a light starter with a glass of sparkling Perry or for a more ample lunch, the addition of grilled baguette or sourdough would satisfy.
Notes:
Across the country, millions of crab apples are seasonally wasted. A travesty! The act of boiling up some apples with a little lemon and sugar; and reducing to the desired pectin release, is a truly simple exercise with hugely rewarding results. Iridescent of hue, complex of flavour, and something that can be stored without spoiling…get picking!