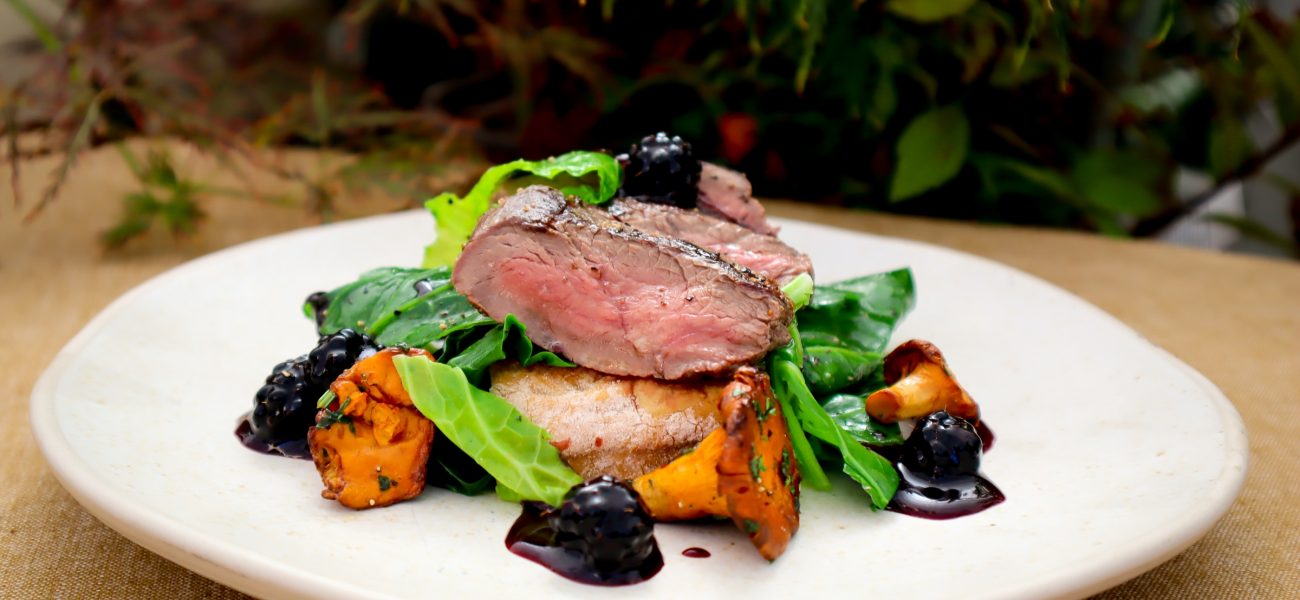 Seared Duchy Venison Loin
Fried bread, local girolles, wilted greens & blackberries
Autumn is the ultimate season. Summers are too unreliable; full-on dead of winter is glum unless you're on the slopes, and spring…whilst a welcome reprieve, is a bit too light in its loafers when pitched against 'The Fall'.
For big, wild-eyed and wolfish chefs, nothing compares to a crisp turn to the air full of feather, ripening gourds and foraged fungi. Earthy, nutty, meaty and marvellous, our hands turn to heady game. Beasts and birds create a welcome option paralysis; with such luxurious frustrations as, 'Jugged Hare' or 'Roasted Grouse'?
All this lean, sinewy and primal integrity demands what I call a 'utility' terrine, (negating any chance of wastage) squashes everywhere and proper wild mushrooms. It's unfortunate that supermarkets and the general populace are not more embracing, as it really is a larder of plenty without the intensity of regular farming.
And so, to venison. The king of game, really and the only beast where farmed is on par with wild. At the Nursery, we are so very fortunate to have our own herd supplied back to us oven-ready by Nick Orton, stalker extraordinaire, doing his bit for the all-important and oft misunderstood cull. But venison is easily procured across the county. You can also find excellent meat at Ponsanooth with Duchy Game.
Cornwall is also a decent haunt for wild mushrooms, and with a bit of practise, you too could be spotting the elusive girolle or chanterelle, furtively poking out of the first of the dying leaves and needles. As for crab apples, I plan on making about 50kg of deliciously iridescent jelly from our plentiful Duchy crop. Did I say I liked Autumn…?
Ingredients for two


2x 150gm pieces of venison loin, trimmed of any silverskin
2x thick slices of bloomer or sourdough
100gm wild mushrooms such as girolles, chanterelles, pied de mouton or ceps
A good bunch of cavolo nero, or any seasonal greens
Decent glug of Pinot Noir
Handful of easily found blackberries and/or 4tbsp crab apple or red currant jelly
Method


Using 4tbsp of the butter, liberally butter each side of the bread and fry to a golden colour in a dry, non-stick pan. Set aside.
With a little finesse, all the rest can come together quite quickly. Rub the venison liberally with salt, pepper, and oil. Heat the same non-stick pan on high, and when near smoking, add the venison. Sear well on all sides and pop in a 180C pre-heated oven for 3-5 minutes, depending on thickness. Remove from the heat and let it rest on a cloth. You're aiming for medium-rare.
Using your searing pan, deglaze with the Pinot Noir and create a quick 'pan jus' with 2tbsp of the cold butter, water and bottom scraping. Keep warm and ready.
Whilst the meat is resting, get another pan very hot and add the mushrooms. The pan should hiss as the naturally moisture laden funghi will begin to give up their water. Toss them a bit, and when they begin to buckle under the heat's intensity, add a little cold butter and seasoning. Then toss, toss, toss. Reserve.
Wilt and season the cavolo nero in the same mushroom pan with 2tbsp of the cold butter.
To Serve:
Slice the venison at an angle and set centre-stage on two plates atop the fried bread. Spoon over the mushrooms and drape the cavolo nero. Heat the pan-jus to bubbling and coerce back to an artificial emulsion with a few drops of water and plop in the blackberries. Spoon the sauce over the venison. A blob of crab apple jelly each is a nice optional finish, and the rest of the Pinot Noir in a couple of balloonish Reidel…et voila! Let the games begin.