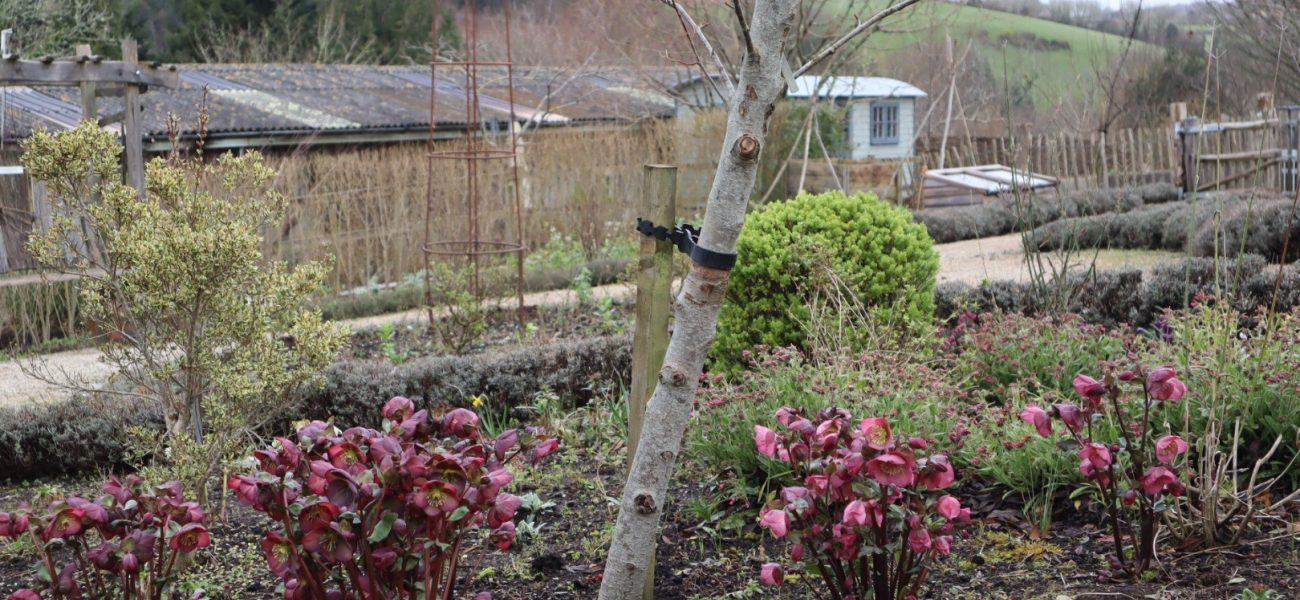 The Bumblebee Blog - March 2022
In this latest instalment of the Bumble Blog, Becky writes about the late winter colour and signs of spring now appearing. Plus a few changes and additions to the season ahead.
Spring seems to be arriving fast in the bumblebee garden, but let's not forget we were recovering from the Beast from the East this time four years ago. We are not out of the woods yet. Recent storms have left the information hut intact, and the only casualty in the garden is the large broom, half of which was snapped off at the base. The rest remains, albeit lopsided, but should flower as normal.
There is plenty of colour at last from an expanding selection of flowers. The winter flowering cherry, which started blooming in November last year, is still blooming, its flowers now outdone by the brightness of Narcissus 'Tete a Tete' and Crocus 'Ruby Giant and C 'Whitwell Purple'. These crocuses have masses of visible pollen and seem to be first choice for visiting bumblebees. When two land on the same flower, it collapses to the ground with their weight, but springs back when they leave. Other flowers include pulmonarias, hellebores, Cyclamen coum, primroses, snowdrops and hellebores. There is a group of red hellebores which look particularly good and strong. The comfrey plants are beginning to show bud and have a long season once they start.
In the glasshouse, in the mouse proof frame, seeds are beginning to germinate. Sweet peas, Cerinthe and cornflowers are up. Last year we did well with sunflowers, especially Ruby Eclipse, so we will be growing more from seed in due course. If they set seed, there will be a feast for the birds too. A large rambling rose, which was too big for the site, has been removed and planted elsewhere, and will be replaced with a new plant for the garden, Eccremocarpus scaber, the Chilean Glory Flower. This is a scrambly climber, hardy in mild areas but easily raised from seed (it sets copious quantities). It produces orange-yellow-red flowers over a long period. One of the reasons for growing this is so our visitors can observe nectar robbing in progress. When a bee's tongue is not long enough to reach inside the flower to get nectar, they make a hole in the base of the bloom, from the outside, and get the nectar that way.
Last month we took delivery of something exciting – three dumpy bags of cow manure (courtesy of Lostwithiel Young Farmers Club). This will be a big bonus for our vegetable patch, and the adjacent kitchen garden. The soil in our veggie patch is shallow, and though we have spread our own compost on it, it could still do with more. The manure will be covered to prevent leaching and left to rot down before being applied this coming autumn.