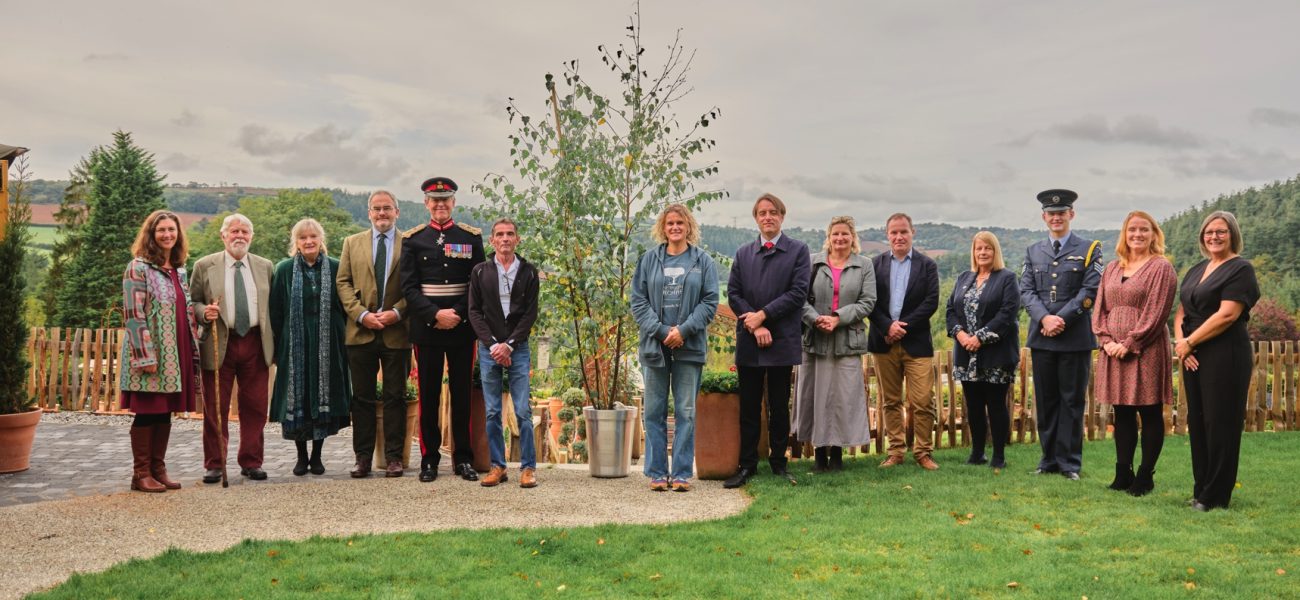 The Queen's Green Canopy: Three trees for three deserving Cornish charities
We were delighted to host last week the presentation of three of the Platinum Jubilee 'Tree of Tree's' to three local charities.
On Thursday 13th October, the Lord Lieutenant of Cornwall, Colonel Edward Bolitho OBE, and Geraint Richards MVO, Head Forester at the Duchy of Cornwall, presented three local charities with three trees from the Queen's Platinum Jubilee tree sculpture, the 'Tree of Trees', at the Duchy of Cornwall Nursery, near Lostwithiel.
The 'Tree of Trees' , designed by Thomas Heatherwick, was made up of 350 saplings in commemorative pots and was part of an initiative called The Queen's Green Canopy which encourages people and communities to 'plant a tree for the Jubilee'.
All 350 trees are being sent across the UK and in Cornwall we were lucky enough to receive three trees.
"What a privilege to see three of the Platinum Jubilee trees here in Cornwall and now being presented to three fantastic local charities. It is a wonderful commemoration to Her Majesty Queen Elizabeth II and I personally can't wait to see each tree planted and thrive for many, many years to come" said Geraint Richards.

Lord Lieutenant Col. Edward Bolitho said "I am delighted to present these trees from the Queen's Green Canopy 'Tree of Trees' to three outstanding Cornish organisations selected in recognition of the incredibly important work they do in their local communities. All three parties faithfully represent the symbols of hope, regeneration and optimism for which the trees stand for and I hope that they will be enjoyed by everyone who comes across them in their new homes now and into the future. They will also provide a fitting and long-lasting memorial to Her Late Majesty Queen Elizabeth II."
The Duchy of Cornwall Nursery in Lostwithiel hosted the presentation, providing a stunning backdrop on its new woodland terrace with far reaching views across the valley and to Restormel Castle.
"What a great occasion, it was a real honour to host these three well deserving charities and we look forward to seeing the trees at their forever homes" said Karl Taylor, Head of Enterprise at the Duchy of Cornwall. "
The three charities chosen were Royal Cornwall Hospital Trust, Newquay Orchard and Children's Hospice South-West. Representatives from each of the charities came to the Nursery for the presentation by the Lord Lieutenant and Geraint Richards.

"The Royal Cornwall Hospitals NHS Trust is extremely proud of its royal connections, and we feel privileged to have been selected to receive a Jubilee Tree from the Queen's Platinum Jubilee tree sculpture," says Thom Lafferty, Chief Strategy and Performance Officer at the Trust. "The wonderful hazel tree that has been bestowed to the Trust will take pride of place in our new Critical Care Healing Garden, a special courtyard garden for our most poorly patients and their families, which is due to be created early in the new year."
Jenny Hindson, Chief Operating Office of Newquay Orchard was there to receive their tree and said:

"It is a privilege to receive this beautiful silver birch as part of the Queen's Green Canopy. We are honoured to be able to plant this tree in Her Majesty's name and join the network of trees across the country that are a tribute to Her Majesty's life of service. The tree inspires us to continue our own service to community and nature here at Newquay Orchard."
Eddie Farwell, Co-Founder and Chief Executive of Children's Hospice South West, said:

"We are honoured to have been presented with one of Her Late Majesty's Jubilee Trees by the Lord Lieutenant of Cornwall at Duchy Nursery."
"The tree is a living reminder of The Queen and her remarkable service to this country and her interest in the environment. It will take pride of place at our Little Harbour hospice in St Austell, where we hope it will serve as an inspiration to the children and young people and their families who use our hospices."