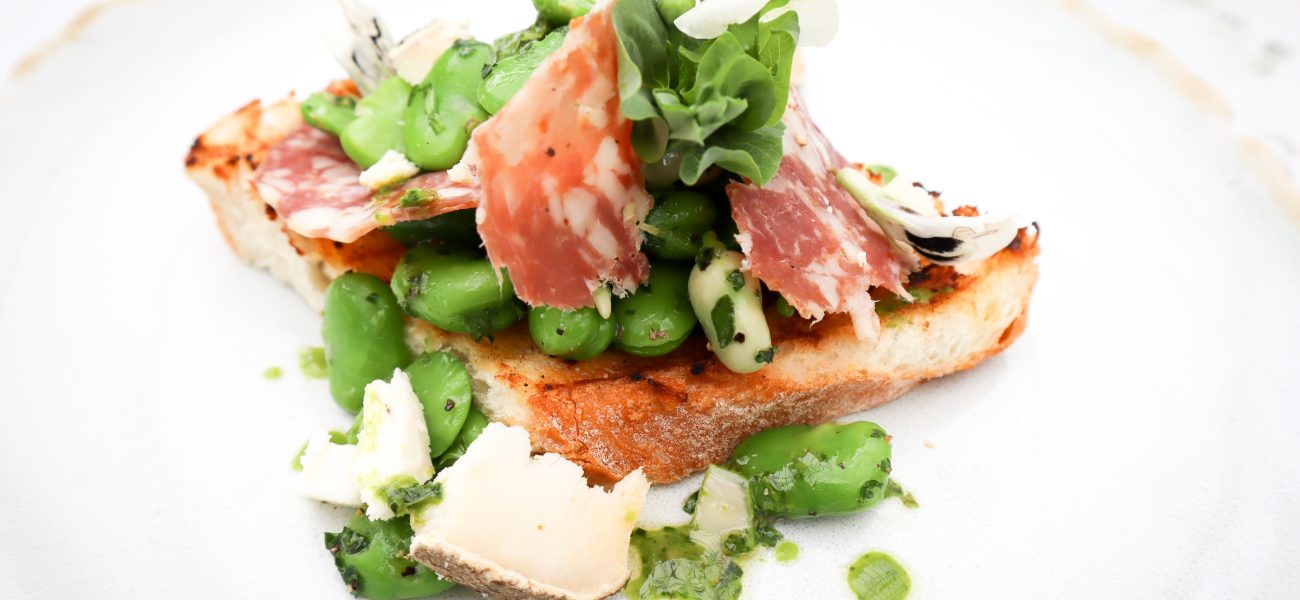 Nursery broad beans on grilled bread, Cornish garlic salami & Cornish goat's cheese
This July, our Head of Food Christopher Archambault, writes about the broad bean.
Broad beans need more respect. Perhaps they are forever maligned by Sir Anthony Hopkins' now infamous 'fava bean and Chianti' quote, but I think the snobbery pre-dates this celluloid legume assassination. I find broad beans to be refined, flexible and a little finicky. Equally creamy and chalky in a unique texture contrast that is oddly appealing. Let's go over some simple points to get the best out of these verdant and subtly flavoured vicia faba.


Young and small- no need to peel the outer membrane, or even to cook. They are so tender and sweet; less attention is favourable.
Older and bigger- A quick blanch in rapidly boiling salted water of a minute or two, then plunged into ice water. Peel off the outer layer and you're good to go.
Fresh is best- broad beans go rotten quick. Once cooked, they will not last more than a day or two in the refrigerator.
Keep things light- To my taste, broad beans are best used in the true spirit of their season. Light, late spring/early summer dishes. They aren't a side for your roast dinner, more for salads, dips, frittatas or bruschetta. You wouldn't put broad beans in a stew.
Provide yourself with a perfect bruschetta platform by liberally brushing a finger-thick slice of your preferred bread with good quality extra virgin olive or rapeseed oil combined with a high heat treatment of grilling, pan-frying or roasting. You're looking to construct something crisp whilst still possessing the ability to sop up all the leaking goodness of whatever you pile upon. I've blanched the beans for only a minute and drizzled them with a little oil, seasoning and a few drops of lemon juice. A couple torn slices of Cornish garlic salami (Deli Farm Charcuterie) and some Nanny Muffet goat's cheese (Whalesborough Cheese). As these beans are from our Nursery Garden, it's lovely to have the flowers intact for that final touch. A perfect light starter or you could add on a fried or poached egg for a decent lunch.
Tipple suggestions…. anything from an Aperol Spritz to an extravagant Chablis to a DG&T (Our very own Nursery gin with Cornish tonic).