Introducing Rob Crowle
Rob has worked for the Duchy of Cornwall Nursery for an incredible twenty-seven years; he's our longest-serving member of staff.
A Cornishman through and through, Rob grew up in St Blazey and now lives in Holmbush, St Austell. His parents had a one-acre garden that was prone to flooding, and Rob remembers his dad digging drainage channels with bridges and walkways. The garden was planted with trees, shrubs, herbaceous perennials, plants for cut flowers and vegetables. His mum was a florist and most of her material came from their garden. His father was a train driver, but it was his garden that became his passion and he grew vegetables, which he sold to the public via a blackboard placed at the front of the house.
Without much surprise, this is where Rob's love of plants and nature comes from. He enjoys his own garden at home, which is tiered, and he's created a series of rooms, which he lovingly tends during his spare time. On a day off, Rob can be found either in his garden or getting out into those wild places that Cornwall is so blessed with, enjoying woodland and coastal walks while taking in the wildlife and scenery.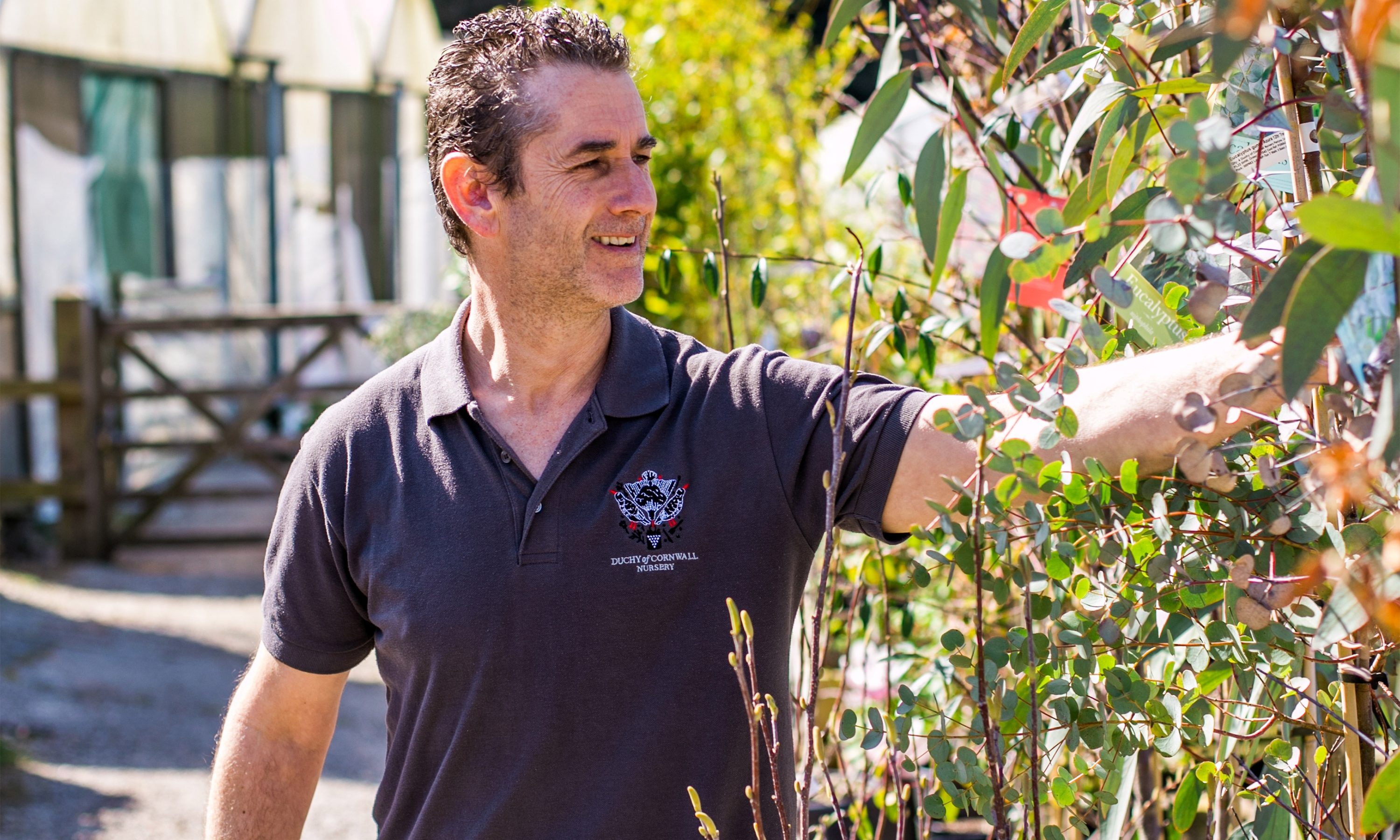 When asked if there is one thing he could change, Rob says: "If everyone on the planet opened their eyes to the beauty and fragility of our natural world, to appreciate and preserve it, the world would be in a better place".
When he left school, Rob joined the Youth Training Scheme at Camborne College (now Duchy College, Rosewarne) with a twelve-month job placement here at the nursery. Once the year was up, he continued at college for a further two years studying Horticulture. Alongside his studies he worked at St Austell Garden Centre, and then in 1992 he was given the opportunity to come back to the Duchy of Cornwall Nursery.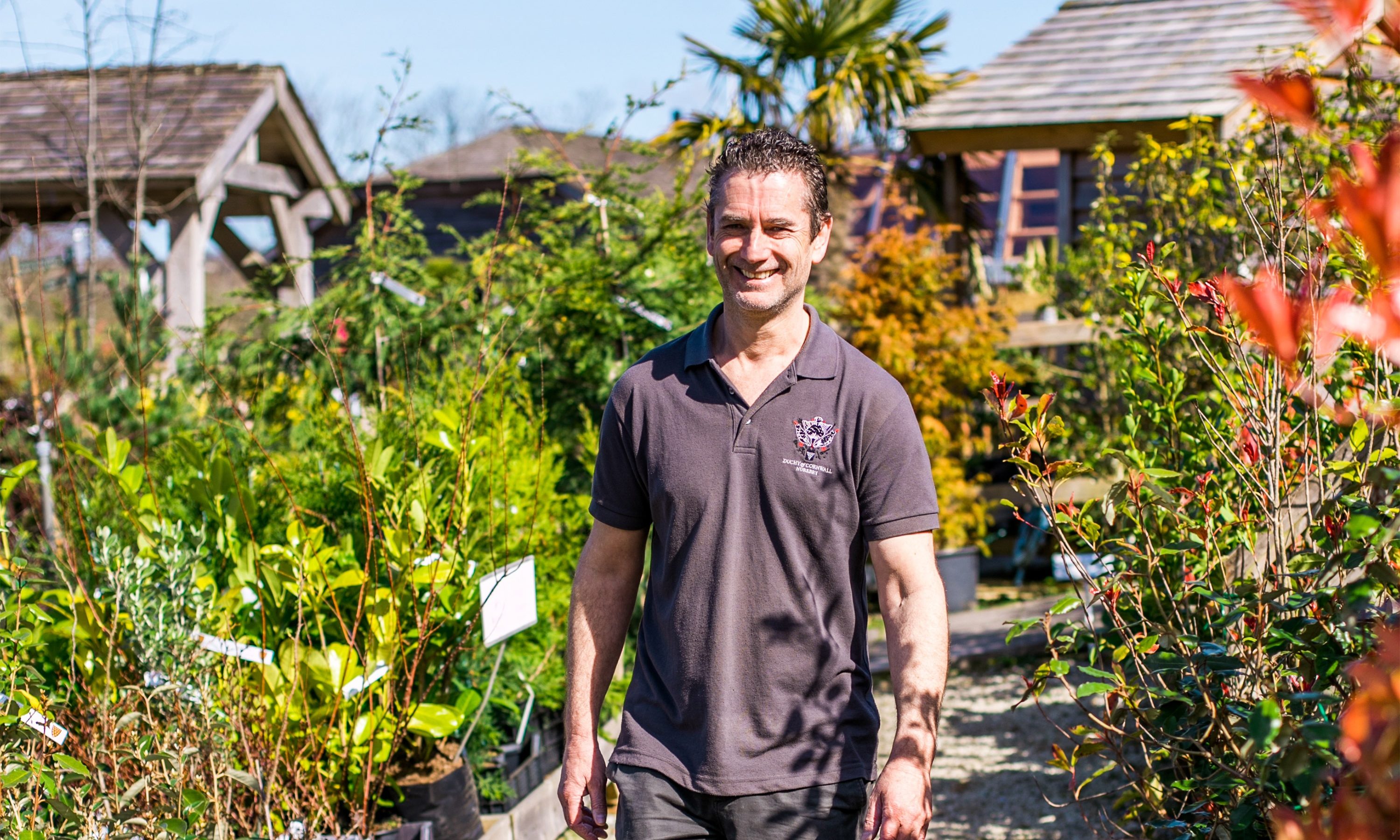 Rob says: "Working here has become a huge part of who I am. New challenges and changes mean it's never a dull day, season to season. Many of the regular customers have become like friends".
One of the highlights of Rob's time at the nursery was eating smoked salmon at the Headland Hotel in Newquay in the presence of HRH Prince Charles, while gale force winds rattled against the windows. Another defining moment was when Rob was asked to be part of a panel during 'Gardeners Question Time' at The Cornwall Spring Flower Show in 2019.
Interestingly, it's tree ferns that Rob cites as his favourite plant. In particular Dicksonia Antarctica, as it's become so at home in many of the great Cornish woodland valley gardens (and in his own), "A primordial and tropical looking group of plants" he says.
We asked Rob if he could invite anyone to dinner, dead or alive who would it be. As you would expect his list has a horticultural and environmental theme. Firstly, David Attenborough – in Rob's words, "A legend and voice for the planet's future". Then Michael Caine, as Rob never tires of hearing him talking about blowing those doors off! Eddie Izzard, one of Rob's favourite comedians and Liz Bonnin for her passionate and enthusiastic knowledge of nature. Finally, Joseph Dalton-Hooker, a botanist and plant hunter of the Victorian age, an assistant surgeon and botanist on HMS Erebus who explored the Antarctic in the 1800s. He was also the second director of Kew Gardens and a close friend of Charles Darwin.
Finally, we asked Rob to describe himself in three words – 'funny', 'cheerful' and a bit 'nutty'. Sounds about right, but we wouldn't be without him.