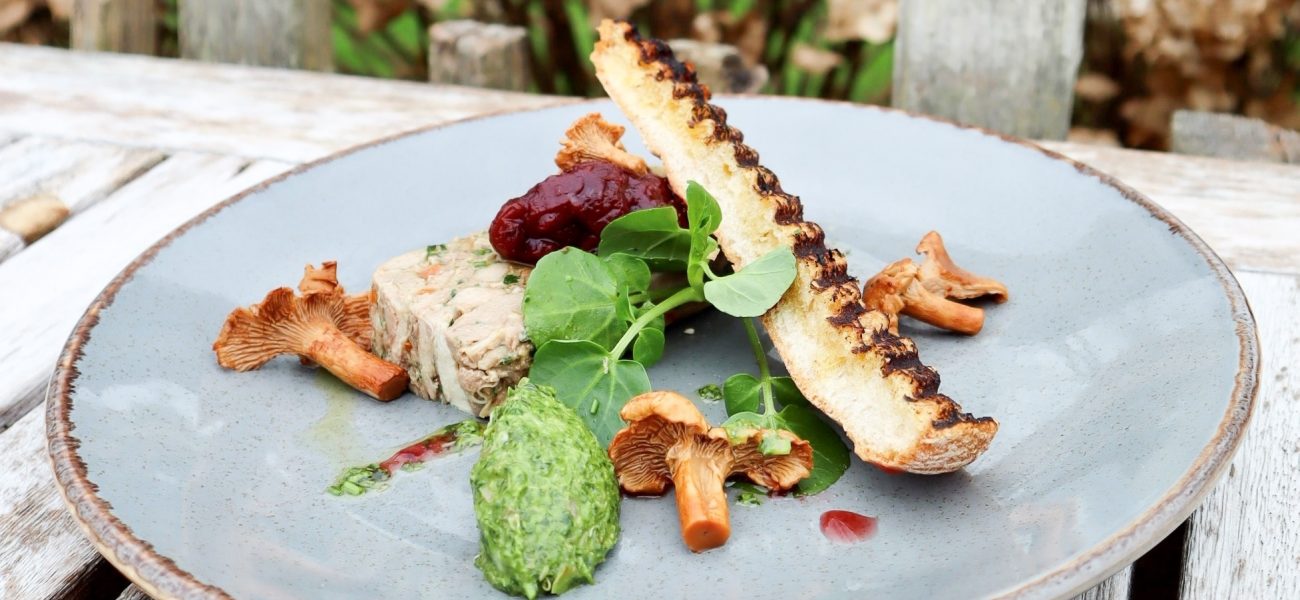 Lanhydrock Pheasant Terrine, Cranberry Compote, Pickled Girolles & Salsa Verde
A good chef will always do his level best to focus on what's in season. Often, it's the thrifty and wise who move to extend those seasons.
The Lanhydrock pheasant breasts that featured on our festive evenings left me with a glut of legs and thighs. They're finicky things; but once you've confited them overnight, and done the careful picking, they yield up fantastic terrines. As with any bird, the appendages are far more flavourful than the costly 'white meat'. A good mix of brunoise vegetables and some choice herbs; a simple mixing,1st and a good hard overnight press under a heavy weight easily yields a tasty treat well past February. There's nothing quite like taking that first 'just sharpened knife' slice of a new terrine. An artwork in every cross-section, no two the same.
This terrine sold like the proverbial hotcakes on our first Sunday Lunch service just after Christmas. Paired with our very own crab apple jelly, local girolles that we pickled and preserved from last Autumn, a spoonful of tart salsa verde and some grilled ciabatta. That most classic pairing- fatty/meaty unctuousness, and acidic cut. Slathered on earthy and primal charred bread. You can never go wrong with these combinations. In lieu of the last of our crab apple jelly…well, there's always cranberry sauce still kicking around! Waste not, want not. Now…bring on spring!